Comm100 Live Chat provides advanced chat routing features that allow you to efficiently route customers to designated departments or agents based on customer location, source, navigation history and other system fields. You can also use the data captured from your Pre-Chat survey or Custom Variables.
Note: Rule-Based Chat Routing is only available with our Live Chat Enterprise plan. If you are using our Business plan, you are able to bind a chat button with a specified agent or department.
Step by Step Instructions
Understanding Chat Routing Scenarios
Step by Step Instructions
Log into your Comm100 Control Panel.

Click Campaign on the left menu. If you have multiple campaigns make sure that you're customizing the correct campaign.

Click on Routing Rules, check the Route visitors based on custom rules option, then click New Rule.




Note: Routing Rules for Ticketing & Messaging Channel is under Settings within the Ticketing & Messaging Module.

Define the rule parameters for chat routing. Give the rule a Name, define the Conditions for this rule to be triggered and route Visitors to the Department or Agent you want.

Select the Priority of the chat request. Queued chats with a higher priority are distributed before those with a lower setting. By default, each chat request is assigned with the Normal priority.

Click OK to save changes.
You can create multiple Rules to route chat requests. You can change the Order of routing rules and assign a department If visitors do not meet any parameters of your custom rules.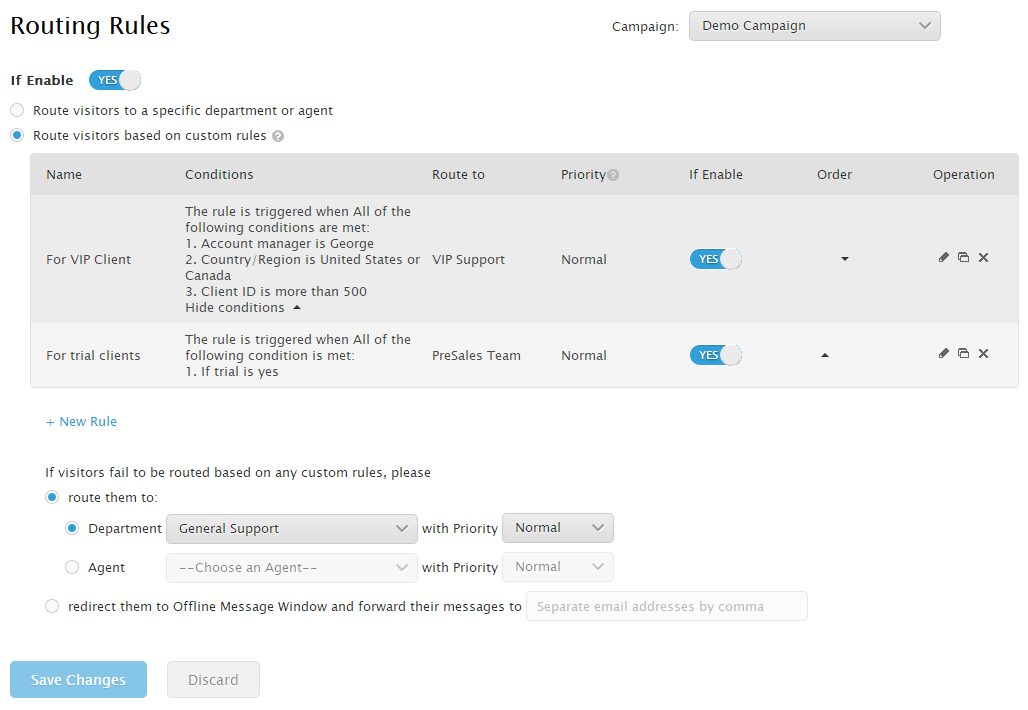 Understanding Chat Routing Scenarios
Route Chats to Account Managers
As a large enterprise, assigning dedicated account managers is a great way of making sure your customers receive the individualized service they need and deserve. Video description here.
Route Chats by Support Tiers
Com100 Live Chat helps you route chat requests to the appropriate agents or departments based upon support tiers, customer priority and/or escalation issues, thus making sure that customers can get quick and accurate responses for questions of different importance. Video description here.
Route Chats by Geographic Location
You can route chat requests from various geographic locations to specific chat agents or departments to ensure that customers from different areas can receive specialized services from operators with the required skills. Video description here.
Route Chats by Skill Groups
You may also need to route chats to various departments based on skill groups. This way, your customers can receive professional services and get their problems solved as quickly as possible. Video description here.
Rule-based automatic routing is one of Comm100 Live Chat's most beneficial features for businesses. If you would like to know how to make the most of this feature, please contact your account manager at Comm100 or chat with us.