Introduction
Agent Assist is a virtual assistant that operates side-by-side with agents. It helps the agents to resolve the customer queries by presenting them with the relevant information whenever needed.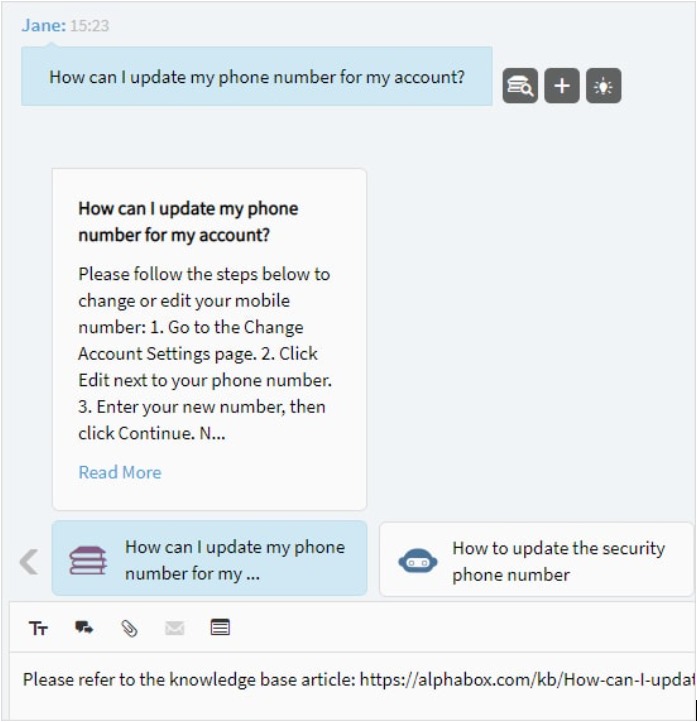 Agent Assist presents multiple suggestions for a question to agents. Agents can select a relevant suggestion without having to search for the answer manually.
Configuring Agent Assist
To configure Agent Assist, follow these steps:
Log in to the Comm100 account.
In the top navigation bar, click the Bot tab.
From the left menu, go to Agent Assist > General Settings.
On the General Settings page, turn on the Enable Agent Assist toggle key.
Note: Sections, such as Languages, Suggestion Source, and Options, appear for Agent Assist configuration.
In the Language section, select the desired language for Agent Assist from the Language drop-down list.
Note: Agent Assist provides suggestions from Suggestion Source based on the selected language. For example, when the selected language is Chinese, however, the visitor's question is in English then Agent Assist may not provide suggestions. Agent Assist does not match an intent in one language with the suggestions available in another language.
In the Suggestion Source section, select the types of content sources that you want Agent Assist to use for suggesting answers to agents.
Note: If you select Public Canned Messages or Knowledge Bases option for suggestion source, then you get a new Similar Questions option under each canned message or knowledge base.
In the Options section, do any of the following:

Define the minimum score for Agent Assist to match the visitor questions with resources to provide suggestions.
To know more about the Agent Assist score, see More about Bot Score.
Select the number of suggestions you want to display.
Note: You can select up to five suggestions from the drop-down list.
Select the checkbox if you want to add the visitor's questions answered using the Agent Assist suggestions automatically to the canned messages or knowledge base articles.
Note: Comm100 does not add visitor questions as Similar questions if there are already more than ten questions in canned message or knowledge base articles.
Select the checkbox to automatically add unrecognized visitor questions to the Agent Assist Learning section.
To know more about the Agent Assist learning, see Agent Assist Learning.