Comm100's SMS integration makes it easy to handle SMS messages sent to your business alongside your other communication channels. The integration allows you to receive SMS messages from your customer and reply to them from inside the Comm100 Agent Console. This means that you can provide quicker, more effective customer service over SMS than ever before.
Our SMS integration is done through Twilio. Please set up an account and phone number with Twilio first before using Comm100's SMS integration. SMS integration is a paid add-on to Comm100 and is available through our Comm100 Multi-Channel Plan. Please chat with us online or speak to your account manager for more details.
This article will teach you:
How to set up your SMS Integration.
How to send and receive SMS messages using the Agent Console.
How to set up your SMS Integration
Log in to your Comm100 Control Panel.
Click Channels on the left sidebar, and move to SMS.

Enter the phone number you want to integrate along with the name you want to display in the Agent Console. Refer to this article to find your Twilio Account SID, Auth Token and Phone Number SID.

You can buy a new phone number from Twilio of your preference. And you are also allowed to send requests to Twilio for the hosting of your existing numbers with them. Note that Hosted SMS supports USA & Canada in Beta with Twilio. Please contact their support for the eligible phone for hosting.

The price to send an SMS may vary based on the carrier to which the SMS is being sent. Contact Twilio for more pricing details.
Click Ok to save your changes. The phone number has been added. You can continue to add more phone numbers if you have more than one you want to manage using Comm100.

How to Send and Receive SMS Messages Using the Agent Console
Once you set up your SMS integration, log into the Comm100 Agent Console and navigate to the Ticketing & Messaging tab.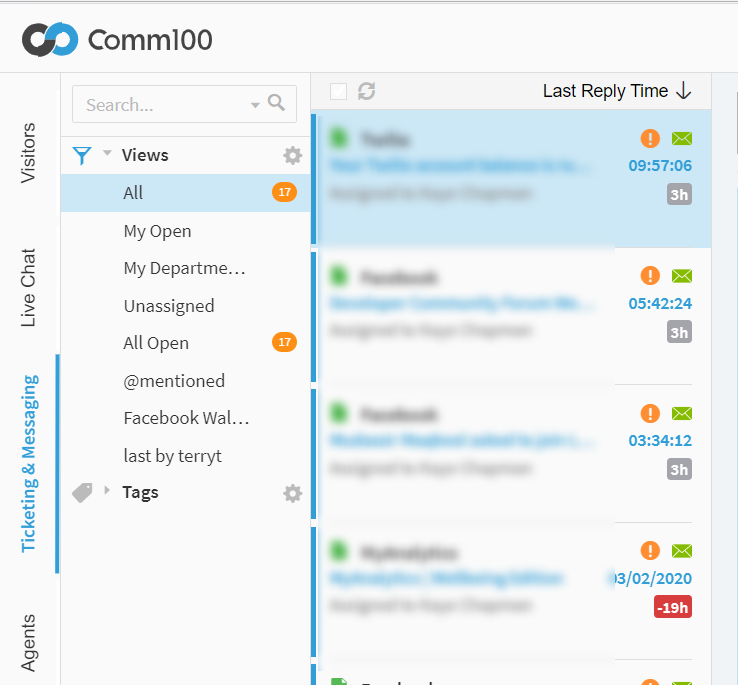 Here you can find all SMS messages sent to your integrated phone numbers. If you have integrated social media accounts as well, you will have to create a filter to only SMS related conversations exclusively.
Agents can respond to these messages in the same way as they do Social conversations. Just type out your responses in the typing field and hit send! These messages will send as SMS responses to your customers.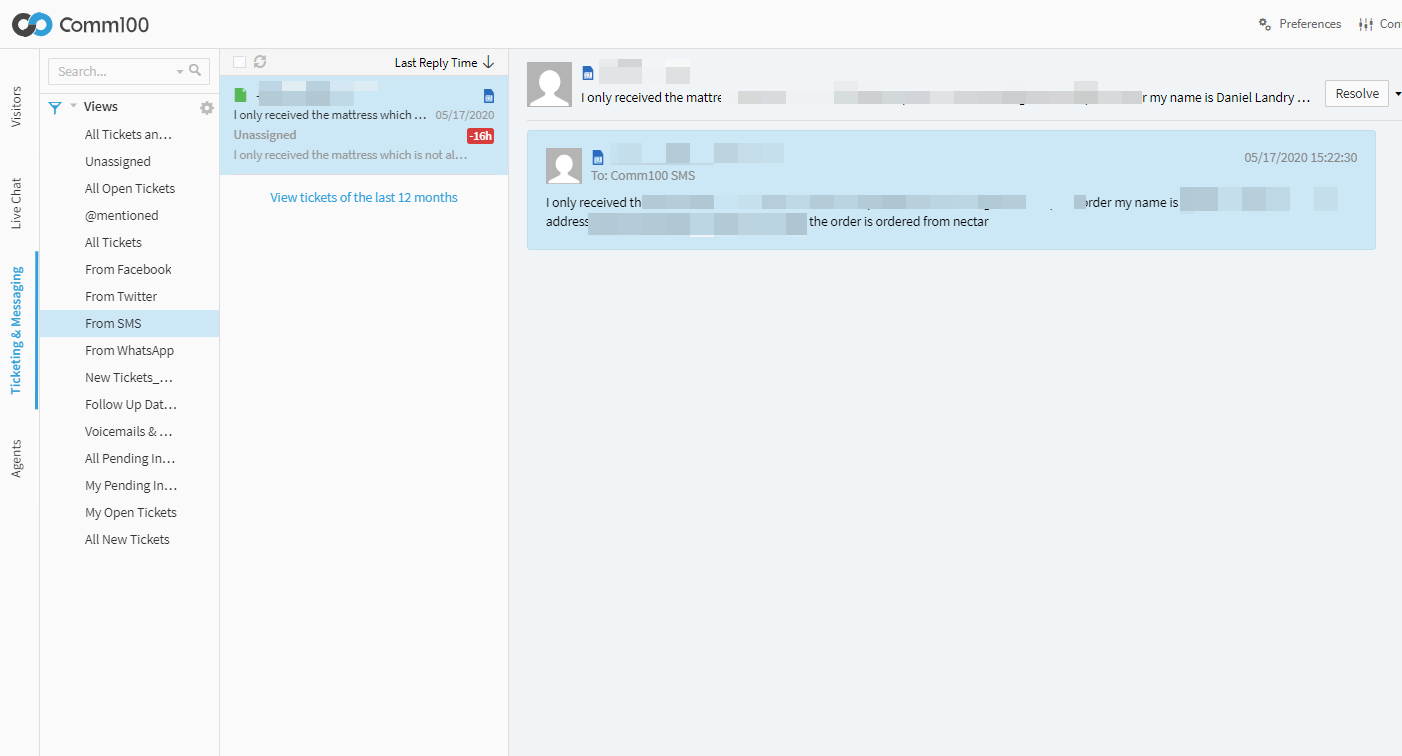 All inbound SMS messages contain user information which allows you to view the phone number's location and zip code.
That's it. Get started with Comm100's SMS integration and improve the speed and quality of your customer service today.