Comm100's WeChat Integration allows you to add your WeChat Official Account to Comm100. With this integration, you can reach your WeChat customers and handle all their queries within the Comm100 Agent Console.
This article outlines the steps needed to configure the WeChat Integration. Note that our WeChat Integration is available in our Comm100 Multi-Channel Plan. Please chat with our online agents or speak to your account manager for more details.
Step by Step Instructions
Log in to your Comm100 Control Panel.
Navigate to Ticketing & Messaging module.

Click Channels at the left menu, then select WeChat.

Click Add Official Account button.
Scan your WeChat QR code to authorize Comm100's access in the pop-up window. You need to scan the QR code using your admin's personal WeChat ID that is associated with your WeChat Office Account.
Note: To enable the integration, you have must a Verified WeChat Subscription Account or a Verified WeChat Service Account.

Confirm the authorization on your WeChat ID.

Your WeChat Official Account has been added.

Click on the Edit button under Operation for more integration options.

In the Edit Official Account page, select an Agent or Department as the Default Assignee and change the default priority of incoming WeChat queries.

The integration is now complete. Your agents will now be able to respond to incoming WeChat messages under the Social module in your Agent Console.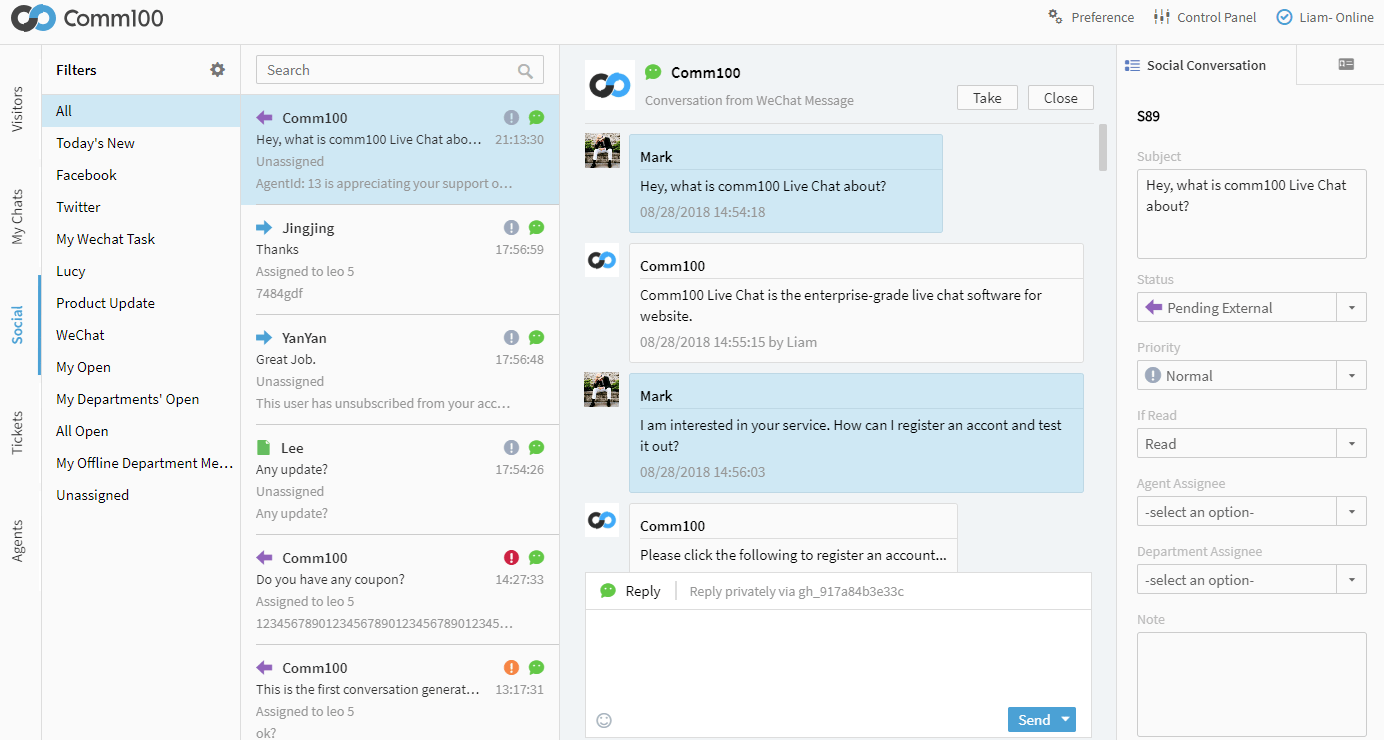 Important:
For a single message, the maximum number of characters an agent can input is 2000 .
Agents can only reply messages received within 48 hours.
Agents cannot reply to a visitor who has unsubscribed from the integrated WeChat account.
If you need any further assistance setting up your WeChat integration, feel free to chat with us.