Yes, you can ban/block visitors from initiating chat requests. Your chat buttons are invisible to banned visitors, and in the meanwhile, the banned visitors will not be displayed in the visitor list of the agent chat console (Agent Console Window).
With Comm100 Live Chat, you can ban visitors using 2 different ways. One is to ban visitors from IP and the other is from Visitor ID.
Each visitor has its Visitor ID in Comm100 Live Chat, which is planted in the visitor's browser cookie. If a visitor gets banned from his/her Visitor ID, this visitor will not able to see the chat button using the same browser. However, if this visitor switches to another browser, use another machine, or clears the cookies in the browser he/she previously used to visit your website, this visitor can see your chat button and initiate chat requests again.
While if you ban an IP, all visitors using the same IP address will not be able to see your chat button. Comm100 also provides the option for you to ban visitors through IP Range. However, you should be cautious to use this option as it may keep your live chat away from many other potential valuable clients.
You can ban visitors in the following 3 scenarios:
When you're in your control panel.
When you're monitoring visitors.
When you're in chat sessions.
Please follow the instructions below to check the step-by-step guide for each scenario.
Ban a Visitor When You Are in Your Control Panel
1. Log into your Comm100 account.
2. ​Click Settings at the left menu then go to Ban List and click New Ban.
3. Select a type and enter the IP or the visitor ID.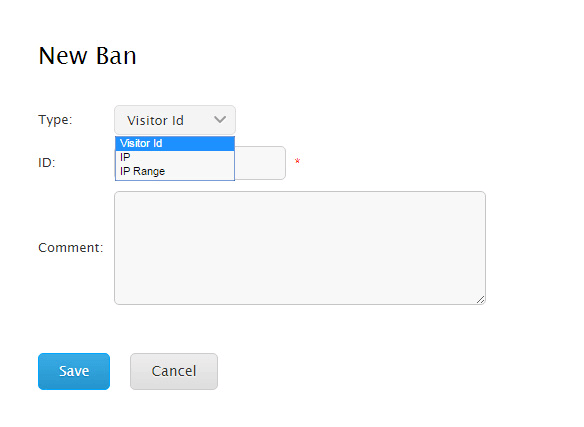 4. Click Save.
Ban a Visitor When You Are Monitoring Visitors
1. Click on the visitor you want to ban from the visitor list.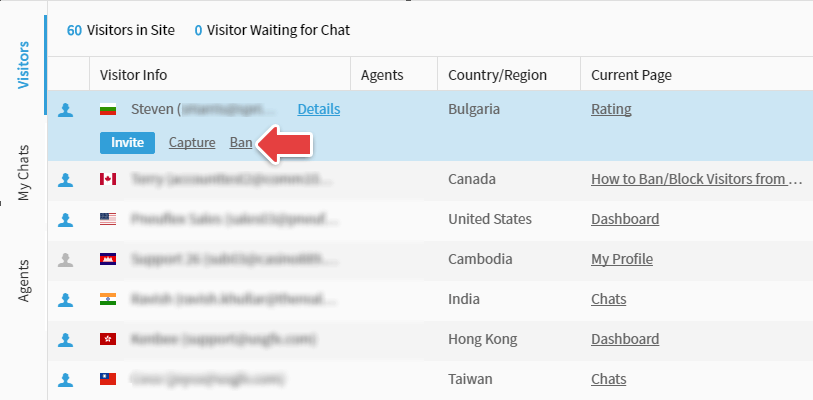 2. Click Ban.
3. Choose Ban Visitor ID or IP to block this visitor from using your live chat service.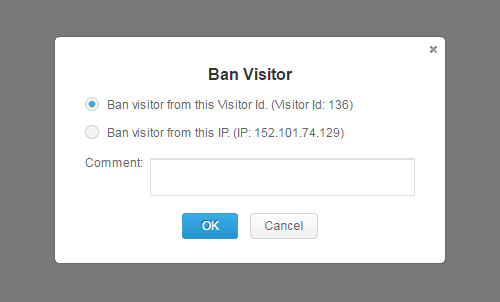 Ban a Visitor During Chat Sessions
1. Select a visitor in My Chats.
2. Click Ban.