Question:
I have pasted the live chat code onto my website. But when I open my website, I cannot see my chat button image. Why?
Possible Reasons
1. Do you use Text Link chat button, but you remove the Text Content somehow?
If don't define any Text Content when using Text Link type, the chat button will be hidden on your website.
2. Do you select the Hide the offline chat button in the Options under Chat Buttonmenu and are there any online agents?
If you enable the feature of hiding your offline chat button and there are no agents online, your chat button will be invisible on your site.
3. Do you select the option which allows you to Display my chat button on specified domains/URLs only?
If you enable this option, chat button will be only available on websites or website pages that you have listed.
4. Other Reasons.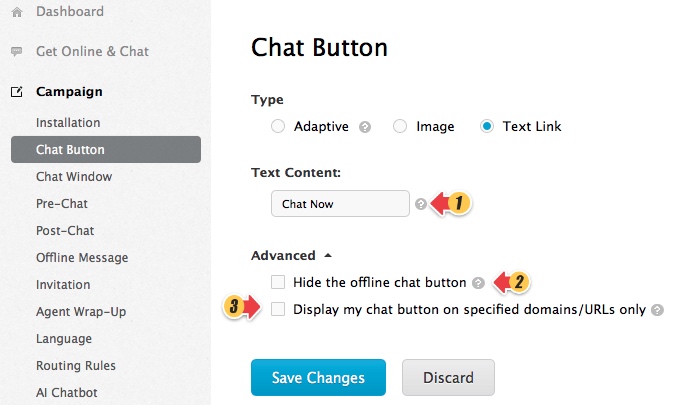 Solution
1. Log into your Agent Console window.
If your online chat button displays, it means your chat button work well. If you don't want your offline image to be invisible, please unselect the Hide Offline Chat Buttonoption in your Customize Chat Button page.
For how to select or unselect the Hide Offline Chat Button option, please refer to this link.
2. Please log into your control panel, check Campaign>Chat Button>Advanced. Locate the option
Display my chat button on specified domains/URLs only. If this option is enabled, please make sure you also input the website domain/URLs which does not show chat button.
3. You can input some text like "Chat Now" in the text content. So your Text Link Chat Button will be displayed on the web page.
4. Please contact Comm100 support team.